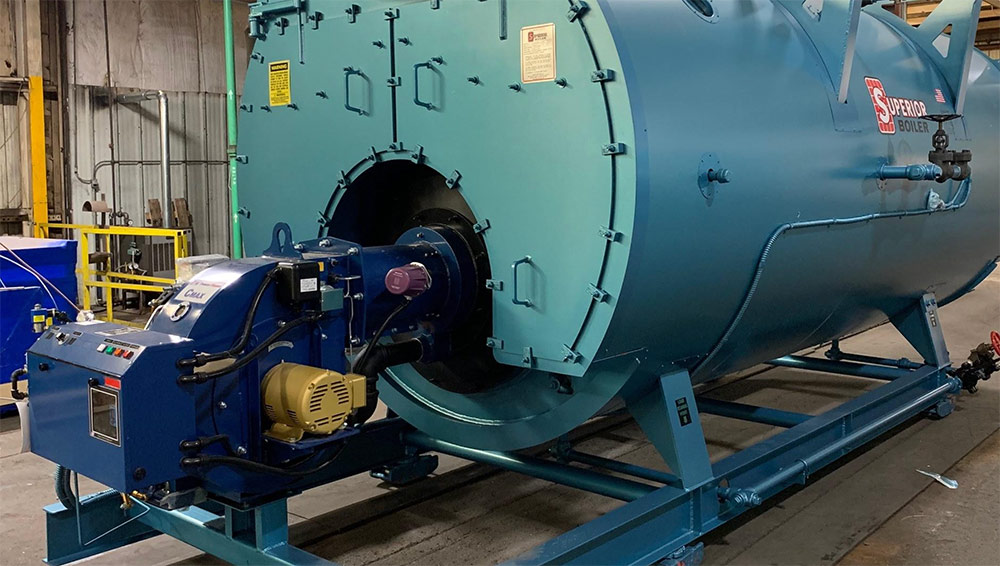 Effective boiler combustion system design involves fuel preparation, air and fuel distribution, furnace design, and combustion control.
A mechanical device called the burner lies at the heart of this system. The job of the burner is to supply the required amount of fuel and air to create a condition of rapid mixing and flame propagation. The proper mixing rate of air and fuel will determine the flame's shape, stability, and emissions. Characteristics of a good burner include stable and proper operation, low noise, low emissions, safe operation, and long service life.
Burner designs have become more specialized to answer the needs of today's highly complex industrial equipment and processes. Selection of the right burner for your application should involve several considerations:
Fuel Requirements – Most boiler burners today fire Natural Gas, however, burners can be selected to burn liquid propane, fuel oil, blended propane, biogas, and hydrogen and solid fuels like biomass. Dual fuel burners are also available for applications when a backup fuel source is critical such as in hospitals. For more exotic fuels a proper fuel analysis will need to be performed before selecting and designing a burner.
Number of BTUs Required – Accurately calculating the load is critical. Select a burner with the correct BTU range for the application. Too few can keep the combustion system from reaching the needed temperature, leading to downtime. Too much could mean paying for more burner than you need, and operating a burner at a partial load where it may be less efficient.
Burner Ratings – Burner ratings are represented as a range, including the minimum and maximum BTUs/hour at which the burner can operate safely and maintain a stable flame.
Required Turndown – Turndown indicates the ability of a burner to manage varying load sizes. Turndown is a ratio of maximum and minimum burner capacity. For instance, a 1,000,000 BTU per hour burner with a minimum firing rate of 100,000 BTUs per hour has a 10 to 1 turndown.
Modulating vs. Step Fired – Know if you need the burner to modulate to meet the load or if a step fired burner is acceptable. Step fired burners are typically less expensive but can lead to the cycling of the burner and premature failure on loads that have large swings. They prefer a steady load. For changing loads, a modulating burner will cycle less.
Proper Flame Geometry – Flame geometries can vary depending on the burner design. In some cases, a long flame could cause flame impingement on the tubes and eventual rupture.
Required Mounting – The most common mounting options include wind box, wall-mounted and duct burners, which are enclosed in the duct. Mounting requirements depend on the furnace design. The furnace and burner must be designed to work together.
Efficiency Requirements – Most burners are very efficient at turning the fuel into heat, but extracting the heat for useful purposes can be tricky. More efficiency can mean more money in controls and furnace design, so select a burner that will meet your goals without breaking the bank. Larger and continuous loads usually have good payback to select a more efficient burner.
Emissions – Learn the emissions requirements for your facility before selecting a burner. NOx, CO, and other emissions requirements vary greatly by area. Be sure to check with your local EPA or refer to your air permit before selecting a burner.
Choosing the right burner is essential for avoiding costly downtime and keeping your process profitable and efficient. Lathrop Trotter offers a variety of industrial burners for dependable and efficient boiler systems including:
Conventional Burners
Duct Burners
Low NOx Burners
Ultra-Low NOx Burners
Secondary Fuel Burners
Biogas and Hydrogen Burners
In order to help you find the ideal burner for your application, Lathrop Trotter can assist you in assessing your project/process needs and evaluating the characteristics of your burner options. We partner with Power Flame and Zecco to offer you the best selection of reliable and efficient burners.
Questions? Your Lathrop Trotter sales engineer can help! Contact Us